Tadashi Hirai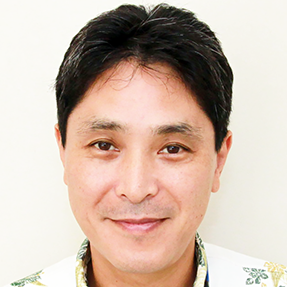 Representative, FFE Okinawa
IAF Certified™ Professional Facilitator
Member, International Association of Facilitators
Former Chairperson, Facilitators Association of Japan
Summary
Tadashi Hirai was born in 1965 at Kanagawa Prefecture. Graduating from the Faculty of Social Sciences at Hitotsubashi University, he relocates to Okinawa in 1995. Since then, Hirai worked many projects as a facilitator in the fields of business, community development and education, etc.
In 2006, Hirai facilitated an international meeting with 200 participants using four different languages. In the government sector, Hirai has helped many organizations and local government offices and organizations with their community development projects by holding more than 200 workshops.
Hirai also assists companies including Okinawa Urban Monorail Co. Ltd, Kanucha Bay Resort Inc., Rizzan Sea-Park Hotel Tancha Bay, Ryugin DC with sales and professional development projects. He facilitated a team-building workshop between U.S. Navy Faculty Command and Japanese Construction Company in 2009.
He recently facilitated an annual educational program "Asian Youth Exchange Program/Asian Youth Development Program (2010 to present) " of 54 to 80 high school students from 14 to 16 Asian countries discussing water related environmental issues of the world during three weeks stay in Okinawa. He also directed the Learning Support Team for Young PALM (International education program for high school students from Japan and Oceania countries) which was held in Miyako Island, Okinawa in occasion of the 6th Pacific Leaders Meeting summit.
Name : Tadashi Hirai
Date of Birth : November 27, 1965
Place of Birth : Kanagawa Prefecture, Japan
Profession : Independent Professional Facilitator
Educational Background : Hitotsubashi University, Tokyo, Japan
Bachelor of Arts in Social Science (1990)
Former Chairperson, Facilitators Association of Japan, 2014 to 2019.
IAF Certified™ Professional Facilitator 2013 to present.
Silver Awardee, Facilitation Impact Award 2015 of IAF.
The World Cafe Community Foundation Stewardship Council, 2017 to present.
2030 SDGs Game Certified Facilitator, 2018 to present.
Work Experience
Representative, FFE Okinawa (2013 to Present)
Empowerment Facilitator
– Facilitates HR projects in private sector, educational program for high school students, seminars for government officials, etc.
Officer, Cultivate Inc. (2007 to 2013)
– Facilitates governmental projects for remote islands' community development.
– Facilitates concept-designing workshops for an international meeting that 5000 Okinawan diaspora from all over the world gather at one place.
– Facilitates HR projects in private sector such as transportation, finance, advertisement and tourism industries.
– Designs international / educational program for multi-national high school students.
– Gives seminars for government officials, etc.
– Facilitates annual World Café workshops for tourism industry's personnel since 2009.
Web site producer, Nansei Micro Inc. (2000 to 2007)
– Produces Okinawa Convention and Visitors Bureau's portal web site.
– Manages tourist promotion projects for Okinawa Convention and Visitors Bureau.
Editorial staff, Okinawa Convention and Visitors Bureau (1998 to 2000)
– Promotes Okinawa as an FIT (Free Independent Tourist) destination by web site and monthly-published free paper.
Coordinator, Okinawa International Exchange Foundation (1996 to 1998)
– Coordinates International meeting, land operating of research trip, student from overseas.
Editorial staff, Stage manager, Latina Inc., Tokyo (1990 to 1995)
– Edits and publishes monthly magazine for World Music lovers.
– Stage production of various Latin American Musicians in Japan tours.
Specialties: Facilitation (business, community, education projects)